Food is more than just a source of nourishment, it is also a source of pleasure, comfort, and identity. Food is a cultural touchstone that brings people together and reflects our values, traditions, and aspirations. It is no surprise, then, that food has inspired countless writers, poets, and thinkers to express their love, passion, and wisdom in memorable quotes that celebrate the magic of food. In this article, we present a collection of food quotes that capture the essence of what food means to us and why it matters.
ALSO READ – QUOTES ABOUT FALSE TEETH
"Tell me what you eat, and I will tell you who you are."
This famous quote by Anthelme Brillat-Savarin, a French gastronome and writer, highlights the link between food and identity. Our food choices reveal our cultural background, social status, and personal preferences. Whether we are vegetarian or meat-eaters, organic or fast-food lovers, our food habits define us as individuals and as a society.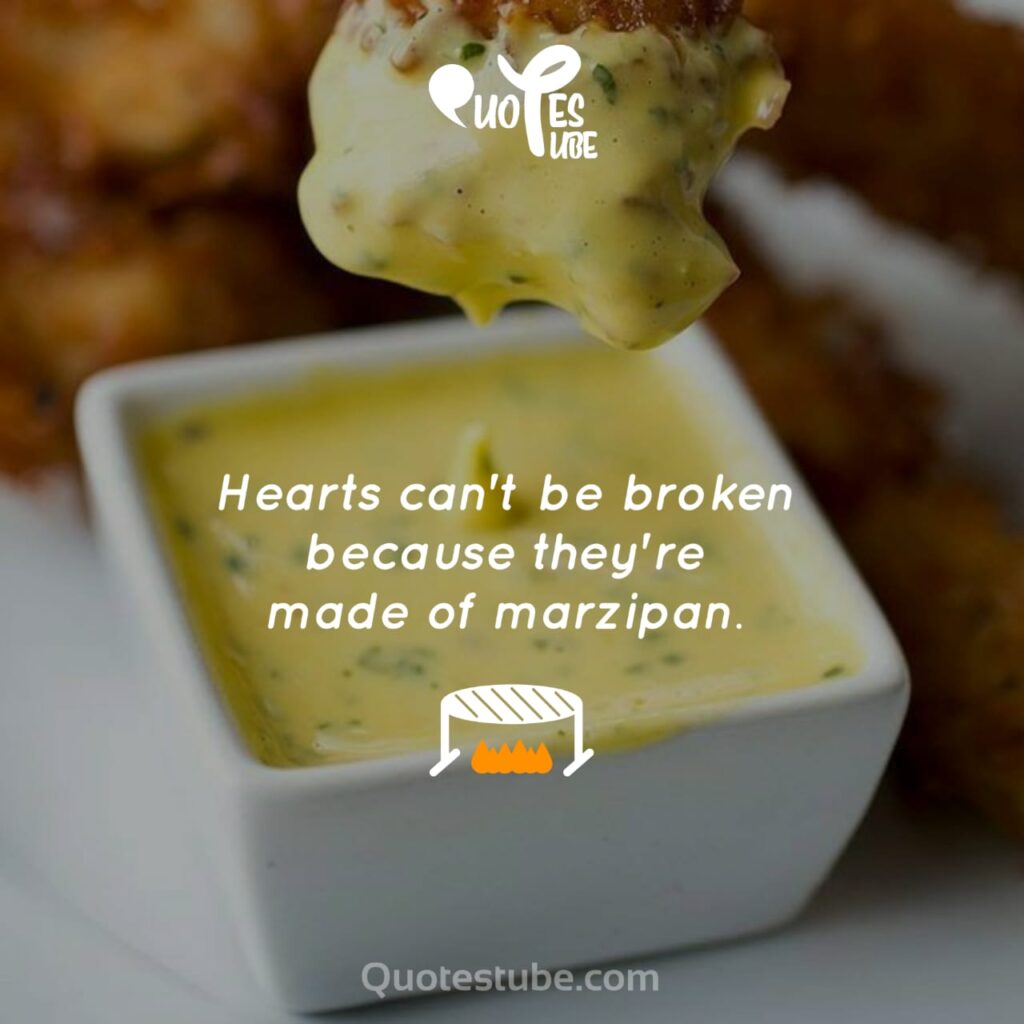 Food Quotes
"One cannot think well, love well, sleep well, if one has not dined well." – Virginia Woolf
"All happiness depends on a leisurely breakfast." – John Gunther
"Food is not just eating energy. It's an experience." – Guy Fieri
"Food is our common ground, a universal experience." – James Beard
"Cooking is like love. It should be entered into with abandon or not at all." – Harriet Van Horne
Cooking Quotes
"Cooking is about passion, so it may look slightly temperamental in a way that it's too assertive to the naked eye." – Gordon Ramsay
"Cooking is like painting or writing a song. Just as there are only so many notes or colors, there are only so many flavors – it's how you combine them that sets you apart." – Wolfgang Puck
"Cooking is one of the strongest ceremonies for life. When recipes are put together, the kitchen is a chemical laboratory involving air, fire, water and the earth. This is what gives value to humans and elevates their spiritual qualities. If you take a frozen box and stick it in the microwave, you become connected to the factory." – Laura Esquivel
"The only real stumbling block is fear of failure. In cooking, you've got to have a what-the-hell attitude." – Julia Child
"Cooking is all about people. Food is maybe the only universal thing that really has the power to bring everyone together. No matter what culture, everywhere around the world, people get together to eat." – Guy Fieri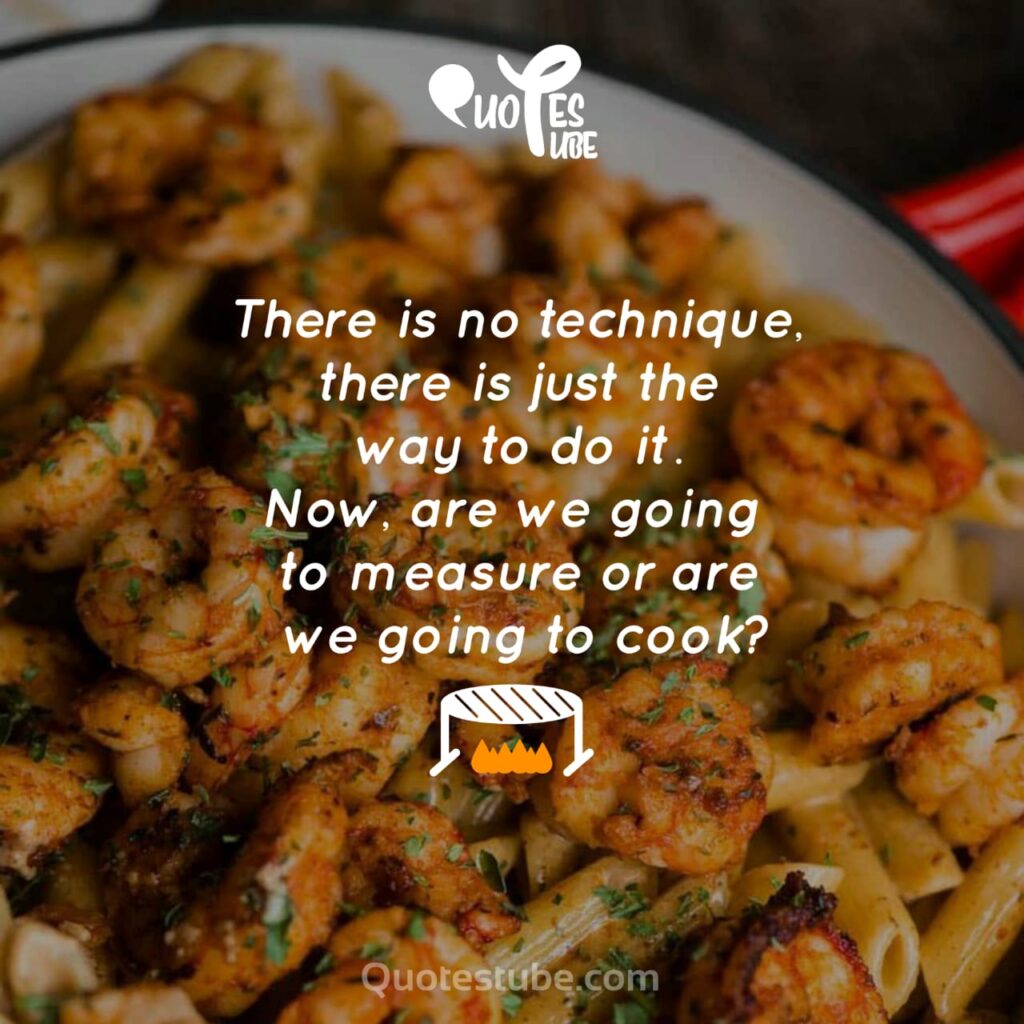 Food Quotes Funny
"I'm not afraid of death; I just don't want to be there when it happens." – Woody Allen (referring to the end of a dinner party)
"I have made a lot of mistakes falling in love, and regretted most of them, but never the potatoes that went with them." – Nora Ephron
"I always cook with wine. Sometimes I even add it to the food." – W.C. Fields
"I'm pretty sure my body is like 70% coffee and 30% cheese." – Unknown
"I won't be impressed with technology until I can download food." – Unknown
Short Food Quotes
"Eat well, travel often." – Unknown
"Let food be thy medicine and medicine be thy food." – Hippocrates
"Food is our common ground, a universal experience." – James Beard
"First we eat, then we do everything else." – M.F.K. Fisher
"People who love to eat are always the best people." – Julia Child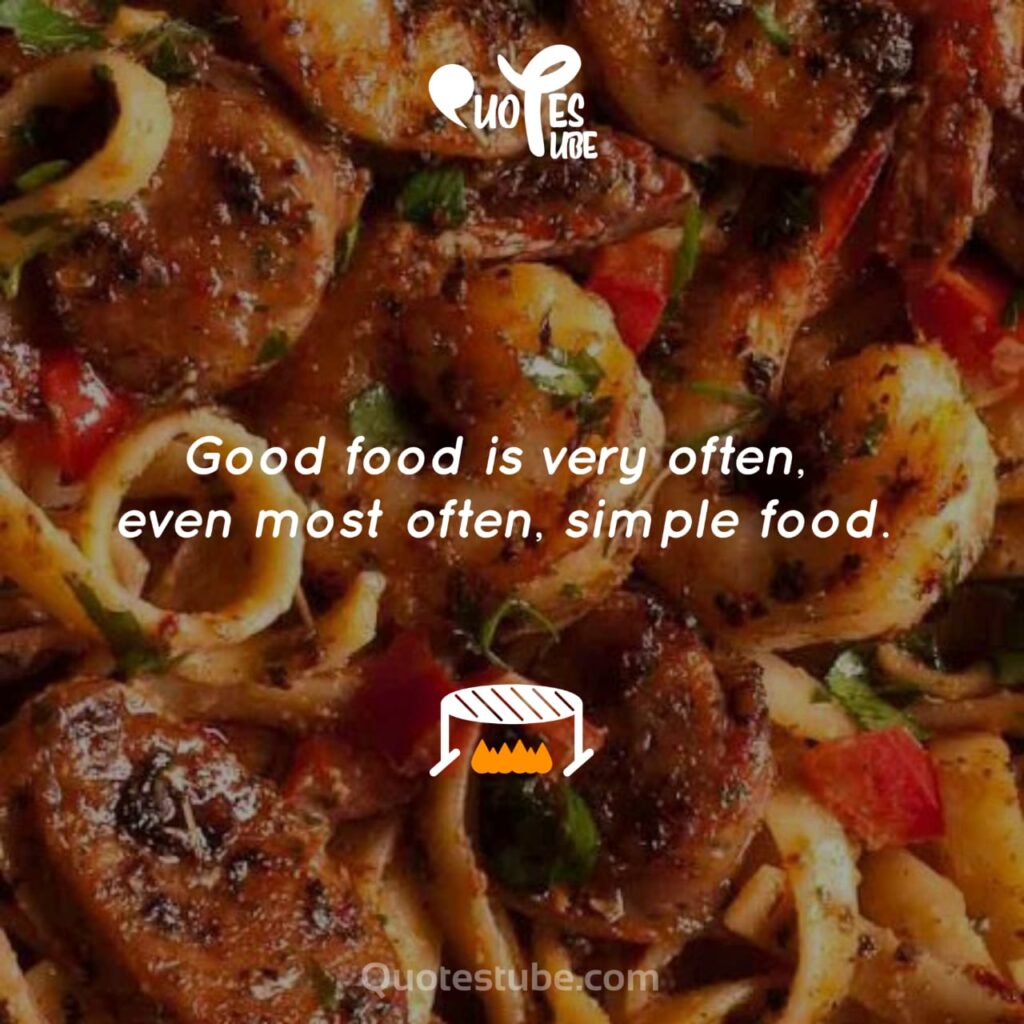 Good Food Quotes
"Food is not just eating energy. It's an experience." – Guy Fieri
"You don't need a silver fork to eat good food." – Paul Prudhomme
"One cannot think well, love well, sleep well if one has not dined well." – Virginia Woolf
"Good food is the foundation of genuine happiness." – Auguste Escoffier
"Cooking and eating food with friends is one of the primal human experiences that binds us together." – Yotam Ottolenghi
Healthy Food Quotes
"Let food be thy medicine and medicine be thy food." – Hippocrates
"Healthy citizens are the greatest asset any country can have." – Winston Churchill
"The food you eat can either be the safest and most powerful form of medicine or the slowest form of poison." – Ann Wigmore
"Eating healthy food fills your body with energy and nutrients. Imagine your cells smiling back at you and saying: 'Thank you!'" – Karen Salmansohn
"Healthy eating is a way of life, so it's important to establish routines that are simple, realistically, and ultimately livable." – Horace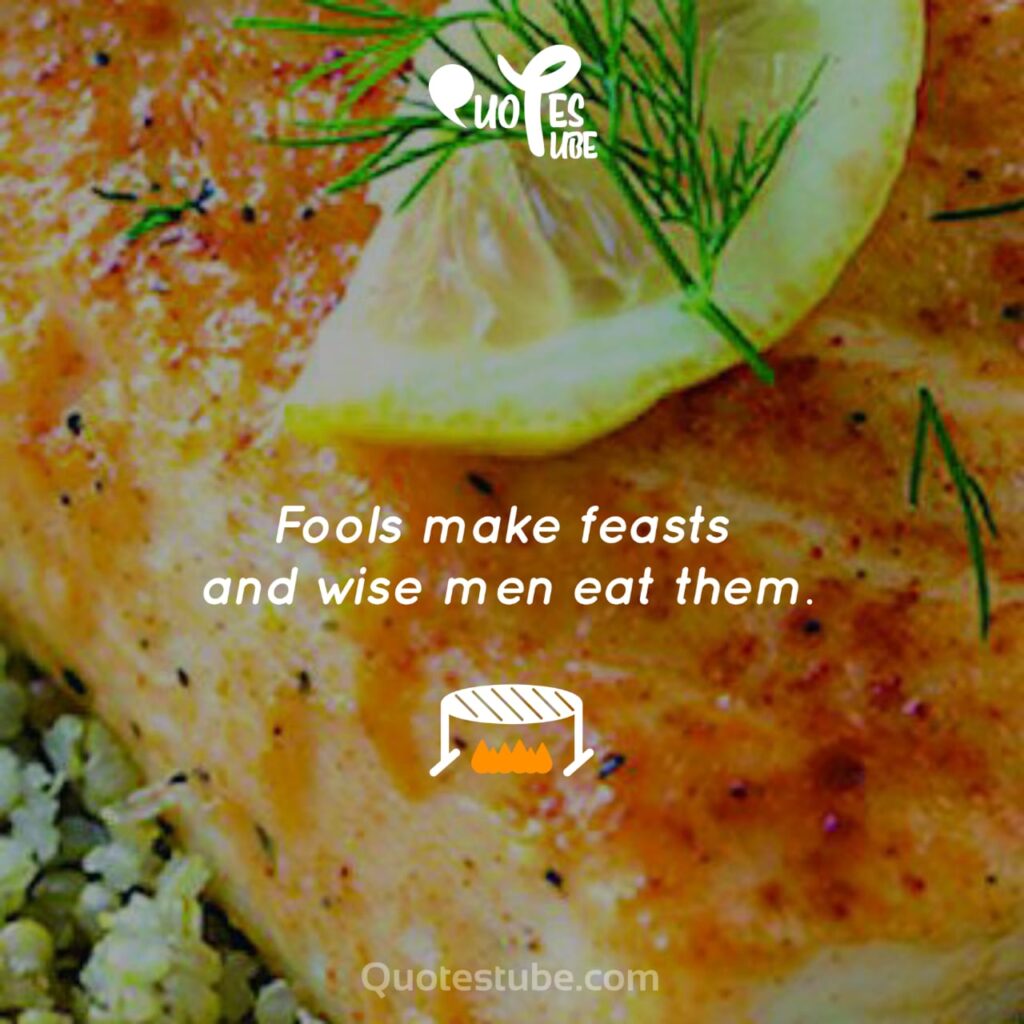 Food Caption
"Good food, good mood."
"Life is uncertain, but dessert doesn't have to be."
"Cooking is like love. It should be entered into with abandon or not at all." – Harriet Van Horne
"There's no sincerer love than the love of food." – George Bernard Shaw
Food Captions For Instagram
"Food is the ingredient that binds us together." – Unknown
"Eat breakfast like a king, lunch like a prince, and dinner like a pauper." – Adelle Davis
"The only thing I like better than talking about food is eating." – John Walters
"Food is our common ground, a universal experience." – James Beard
"Life is short, eat the cake." – Unknown
"I have a love affair with pizza." – Unknown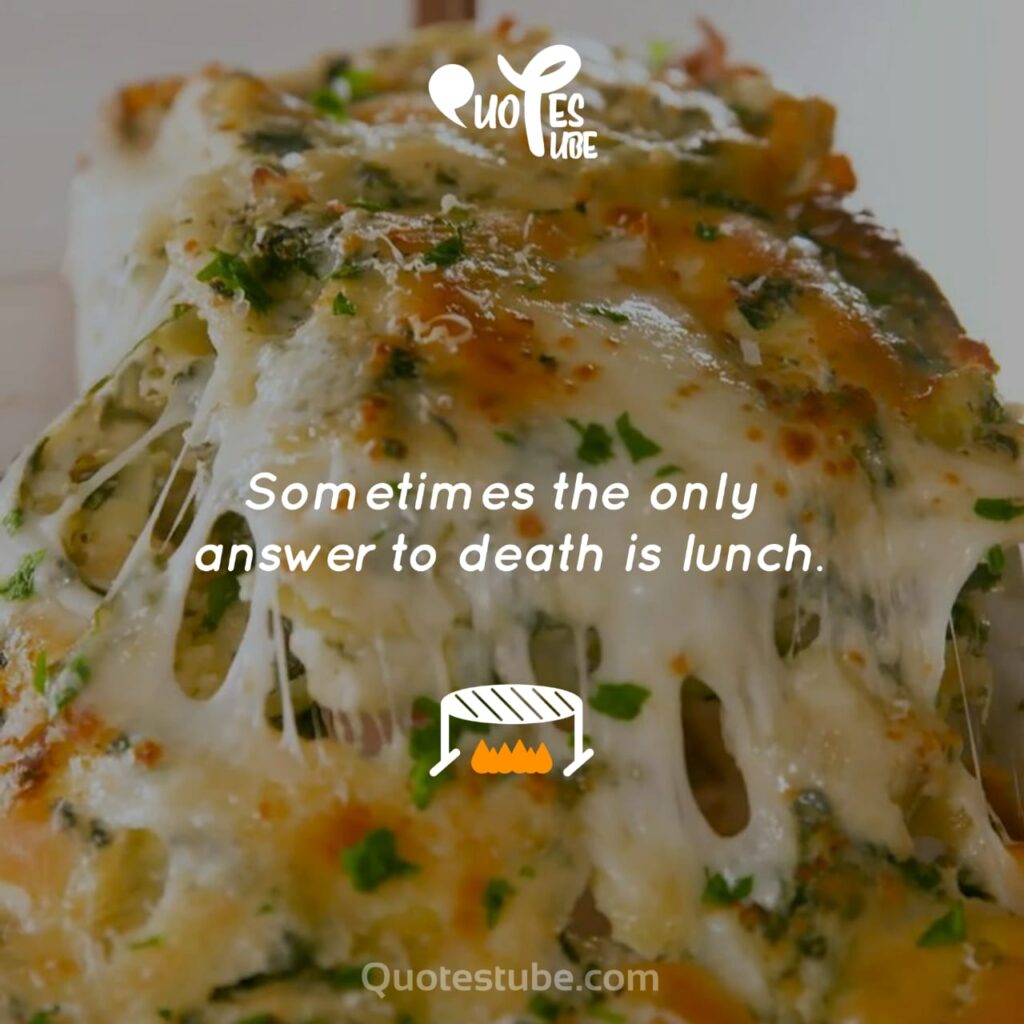 Food Lover Quotes
"People who love to eat are always the best people." – Julia Child
"Food is not rational. Food is culture, habit, craving, and identity." – Jonathan Safran Foer
"Cooking is all about people. Food is maybe the only universal thing that really has the power to bring everyone together. No matter what culture, everywhere around the world, people eat together." – Guy Fieri
"Food is love, food is life." – Unknown
"Food is symbolic of love when words are inadequate." – Alan D. Wolfelt
Chef Quotes
"The best way to make a mediocre recipe shine is to use top-quality ingredients." – Ina Garten
"You don't have to cook fancy or complicated masterpieces – just good food from fresh ingredients." – Julia Child
"Cooking is like painting or writing a song. Just as there are only so many notes or colors, there are only so many flavors – it's how you combine them that sets you apart." – Wolfgang Puck
"A recipe has no soul. You, as the cook, must bring soul to the recipe." – Thomas Keller
"A great chef is first a great technician. If you are a jeweler, or a surgeon or a cook, you have to know the trade in your hand. You have to learn the process. You learn it through endless repetition until it belongs to you." – Jacques Pepin